Since March 31st we have a new Tourism office located in the old Renfe train station. This building, in disuse since 2005, when the suburban line between Valencia and Riba-roja de Túria was closed, was ceded to the Town Hall in 2018.
The new tourist office, located until now in the El Arte building, will allow this service to have more space and be in a much more visible place, next to the metro station in our town, with the aim of promoting tourism. The work consisted of refurbishing the building and fitting it out as a new, more modern tourist office with more services.
Toni Gaspar, president of the Diputación de Valencia, paraphrased Albert Einstein with his phrase "creativity is intelligence having fun" referring to our recent designation as a UNESCO Creative City and also remarked that "Manises ceramics is a unique symbol of the town".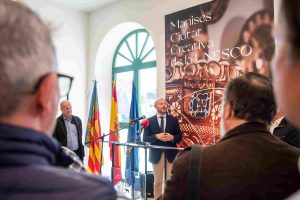 The councillor for Finance and Tourism, Ángel Mora, expressed his satisfaction that this project has finally come to light. "It is a great investment that will boost tourism in our city, with a strategic location that is much more accessible and visible to everyone who comes to Manises".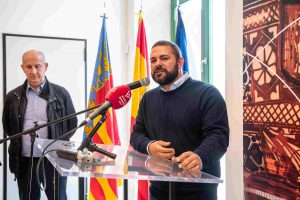 For his part, our mayor, Jesús Borràs i Sanchis, stated that "this new installation is a boost for tourism in the town and a showcase for our ceramics and our tourist resources".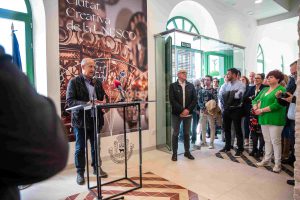 The open day was attended by the President of the Provincial Council, Toni Gaspar, the deputy of Tourism, Jordi Mayor and Sergio Bellentani, Head of Product Service of Turismo Comunidad Valenciana. Also in attendance were numerous people from local associations and different groups from Manises.
HISTORICAL DATA
The station, which is of great historical, social, artistic, architectural, and territorial value, is a rectangular two-storey building with a floor area of 305 m² per floor, with tile and masonry work and a bright façade. The ceramic decoration dates back to 1974, with tiles in different areas and a plinth that runs around the outside of the entire building with ceramic murals that make reference to the railway.
The ground floor had a large vestibule where the waiting room, ticket offices, storeroom and circulation office were located, while the upper floor was used for the living quarters of the railway workers. The building dates back to the inauguration of the València-Manises section in 1889, as part of the València-Llíria railway line.
The emblematic building of the Renfe station in Manises was ceded to the City Council in 2018 in an agreement signed with the Department of Housing and Public Works and Railways of the Generalitat Valenciana, which specified that it would be the consistory in charge of carrying out the rehabilitation and refurbishment works.