"Hola Cerámica" is an activity promoted by the European Grouping of Territorial Cooperation "Cities of Ceramics" in collaboration with the Spanish Association of Cities of Ceramics, with an aim to holding ceramics-related activities in Europe's cities of ceramics. 
With this activity, the European cities with links to ceramics seek to give visibility to this craft which is so uniquely ours. The activity is carried out by the city department of Promotion of Ceramics and Tourism.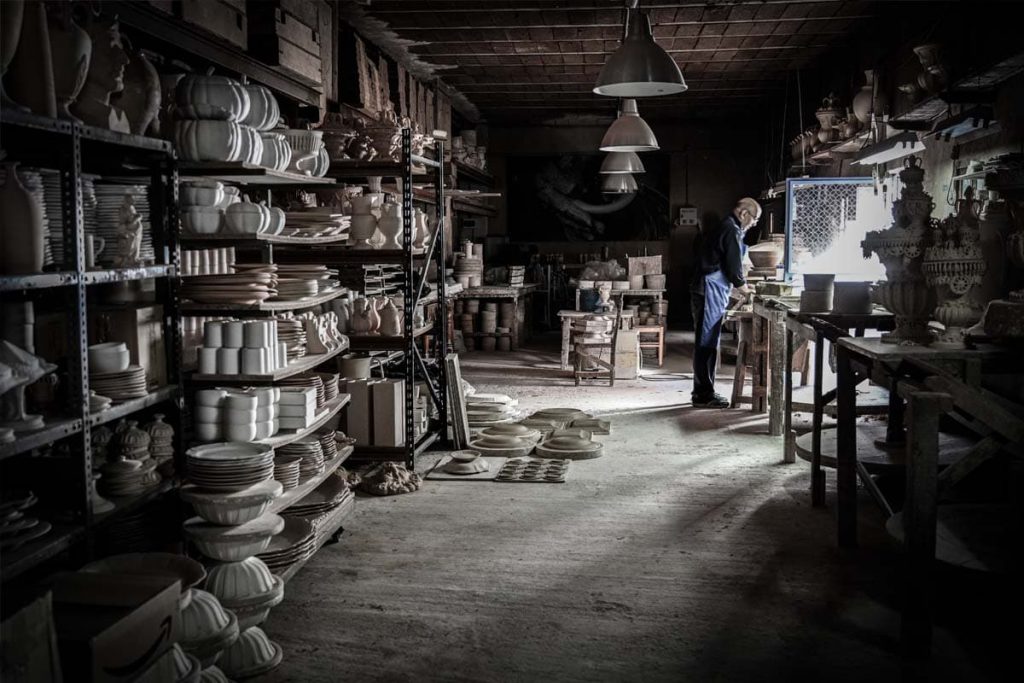 Manises avails of this opportunity to open workers' doors to visitors. This event helps workshops provide first-hand knowledge of their work. The general public and, particularly, children are given their first taste of ceramic craftwork. 
During the day, you can visit for free the ceramic workshops, get a close look at the work of the famous Manises ceramists and take part in the many activities organised for visitors in the same workshops.
In addition, visitors can take the tourist train that runs through part of the city and takes visitors to the workshops. You will need to book in advance at Manises Tourist Info in order to be able to take the train .
Typical workshops

and activities available:
A new ceramic space by ceramist Alicia G. Bellver, it is a space open to all those wishing to experiment, innovate, share and, above all, enjoy ceramics, in a free and simple way, with unique, contemporary handcrafted items which are both ornamental and utilitarian.
Activity:

Leave your mark in the clay
Arturo mora- manises lustreware
The descendent of an old family of Manises ceramists (19th century), it is currently the only workshop that reproduces the lustreware technique in Manises (an Arab technique from the ninth century). Its work focuses on making replicas of the lustreware of Manises from the 15th to the 17th centuries and on using this technique in new proposals which are both formal and decorative.
Activity: :

A view of the workshop and the lustreware-making process. Those attending will be offered the opportunity to operate the potter's wheel.
A ceramic workshop engaged in making yellow crockery for food. Its star product is the ceramic mortar.
Activity: :

You will be given first-hand knowledge of the manufacturing process of yellow crockery. Those attending will be able to operate the pottery wheel.
Drac Cerámic is formed by Conxa Arjona and David Sánchez. You will be given the opportunity to enjoy conceptual craftwork and ceramic restoration: Demonstrations of the pottery wheel and pottery.
Activity: :

Pottery and wheel demonstrations
Ceramist José Royo Alcaraz's workshop specialising in traditional 18th century-style ceramics (planters, trade scenes, vases…) and signature ceramics.
Activity: :

See how a "Alfabeguer" or basil holder is made.
Asociación valenciana de cerámica avec-gremio
On Open Days, you can visit the Centre of Services and Promotion of Valencian Ceramics, the headquarters of our AVEC-Gremio Association, which has a workshop/school and a ceramics shop. You are invited to take part in the different ceramic workshops which are free of charge for everybody and run by our craftspeople, ceramists and collaborators who get together in our workshop/school on these special days.
José gimeno martínez's valencian ceramics
A centuries-old traditional workshop from Valencia which is situated on a pottery from the 15th century in the old "Barri d'Obradors". It houses a museum collection of tiles and medieval and Baroque ceramics and its own shop.
Activity:

A visit to the monographic exhibition room of Valencian ceramics and the screening of the documentary entitled "Reflejos de Manises".  .