Manises is part of the Creative Cities Network of UNESCO, within the model of Crafts and Popular Arts. We are the first and only city in Spain that achieved this distinction in this category. UNESCO's Creative Cities form a creative map that unites international points with the aim of highlighting creativity as a driving force for sustainable urban development.
One of the Creative Cities, labelled in the same way as ours, is Paducah (Kentucky), where the professional dedicated to ceramics, Mitch Kimball, is from. He visited our town in July 2022 on the celebration of the Ceramic Festival in order to work with local artisans with the installation of a ceramic mural.
Mitch's interest in making kilns of such different shapes led him to meet our ceramist, Jamie Romero.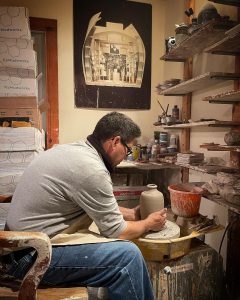 Thanks to Mitch's visit, our tradition and history has reached the other side of the pond, and this year it was Jamie who visited Mitch. His accomodation during his trip was totally free of charge thanks to Paducah and the exchange program as a Creative City of UNESCO. The PAA (Paducah Art Alliance) and the Paducah Tourist Office have coincided this special trip with Paducah's 10th anniversary as UNESCO's Creative City of Crafts and Popular Arts.
Before his trip, ceramist Jamie Romero said that "the stay in Paducah will be a totally enriching experience both at a human and professional level, as well as a great opportunity to share and meet ceramists with common interests and expand our own vision and perspective about the ceramic art.
Doug Schultz, professor of ceramics in California, also visited us during his gap year and since then comes to our town every year to work with the companions he made there. In fact, last year he also went to the Ceramic Festival, where he met Mitch Kimball, which led him to want to visit Kentucky to learn more about the wood-burning kilns. Doug, for his part, has also visited Paducah for their 10th anniversary.